Careers in Occupational Therapy
According to U.S. New Best Jobs, Occupational Therapists rank #20 in Best Health Care Jobs and recieved high marks in terms of salary, future growth, and work life balance. The field of occupational therapy is the ideal fit for individuals who enjoy working with people, strive to engage in meaningful work, and are creative problem solvers.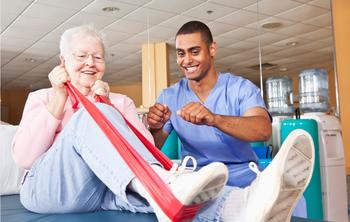 Occupational therapists work in:
Rehabilitation facilities
Hospitals
Schools
Mental health settings
Community settings
Military
Preschools & Daycares
Skilled nursing facilities
About Our Program
UNCP's MSOT program is a 24 month (six semesters) 78 credit program designed to prepare students for practice. Students will graduate with the knowledge, clinical reasoning skills, and hand-on experience needed to sit for the National Board for Certification in Occupational Therapy (NBCOT) and obtain licensure. ➊
The MSOT program offers students a wide variety of learning opportunities including site visits, fieldwork placements, various clinical, and simulation experiences.
Application will Open in December 2023
The Master of Science in Occupational Therapy program will begin accepting applications through the OTCAS platform in December. Applicants who have attended one of our Virtual Information Sessions are given priority consideration. Be sure to sign up for a slot today!
Prerequisites
══════════════════
| Course | Credits |
| --- | --- |
| Developmental Psychology | 3 |
| Abnormal Psychology | 3 |
| Anatomy & physiology (2 semesters with labs) | 8 |
| Physics or Physical Science | 3 |
| Statistics | 3 |
MSOT Curriculum
══════════════════
Year 1


Fall

OCCT 5000 - Theories & Foundations in Occupational Therapy
OCCT 5100 - Functional Anatomy and Physiology
OCCT 5150 - Clinical kinesiology
OCCT 5200 - Psychosocial Approaches & Mental Health

Spring

OCCT 5400 - Clinical Neuroscience
OCCT 5450 - Pediatrics in Occupational Therapy I
OCCT 5475 - Assessment in Adult Physical Dysfunction
OCCT 5005 - Special Topics in Occupational Science
OCCT 5350 - Clinical Decision Making I

Summer

OCCT 5680 - Health Promotion and Aging
OCCT 6351 - Clinical Decision Making II
OCCT 5600 - Assistive Technology
OCCT 6500 - Professional Ethics in Clinical Practice
OCCT 5500 - Research Methods

Year 2


Fall

OCCT 6490 - Pediatrics in Occupational Therapy II
OCCT 5650 - Management, Advocacy, and Leadership
OCCT 6480 - Interventions in Adult Physical Dysfunction
OCCT 6000 - Hand Therapy and Upper Extremity Disorders
OCCT 6600 - Clinical Pathophysiology

Spring

OCCT 6800 - Senior Seminar I
OCCT 6850 - Fieldwork II-a

Summer

OCCT 6880 - Senior Seminar II
OCCT 6870 - Fieldwork II-b
UNCP's MSOT program has applied for accreditation by the Accreditation Council for Occupational Therapy Education (ACOTE) of the American Occupational Therapy Association (AOTA), located at 6116 Executive Blvd, Suite 200, North Bethesda, MD 20852-4929. Phone number: (301) 652-AOTA; web address: www.acoteonline.org. The program must be granted Candidacy Status, have a preaccreditation review, complete an on-site evaluation, and be granted Accreditation Status before its graduates will be eligible to sit for the National Board for Certification in Occupational Therapy (NBCOT) exam. All states require licensure to practice. State licenses are usually based on the results of the NBCOT Certification Examination. Note that a felony conviction may affect a graduate's ability to sit for the NBCOT certification examination or attain state licensure.
The MSOT program is pending approval by the Southern Association of Colleges and Schools Commission on Colleges.