Fall 2023 Move-In Details
Additional information will be posted as soon as details concerning fall move-in are finalized.
FOR NEW STUDENTS
Box EVERYTHING, reducing loose items!
Use plastic bins if possible (they are reusable, reduce waste, are more secure than cardboard, and stack easier)
Bring your BravesCard (Student ID)!
Your ID provides access to your hall or community building
It is NOT your room key; you will be issued a key when you check in on arrival
Your ID was provided at orientation
NOTE: Bringing your own hand truck can be a wise investment for your college career
Have questions? We are happy to help! Call Housing & Residence Life at 910.775.4253 or email us at housing@uncp.edu.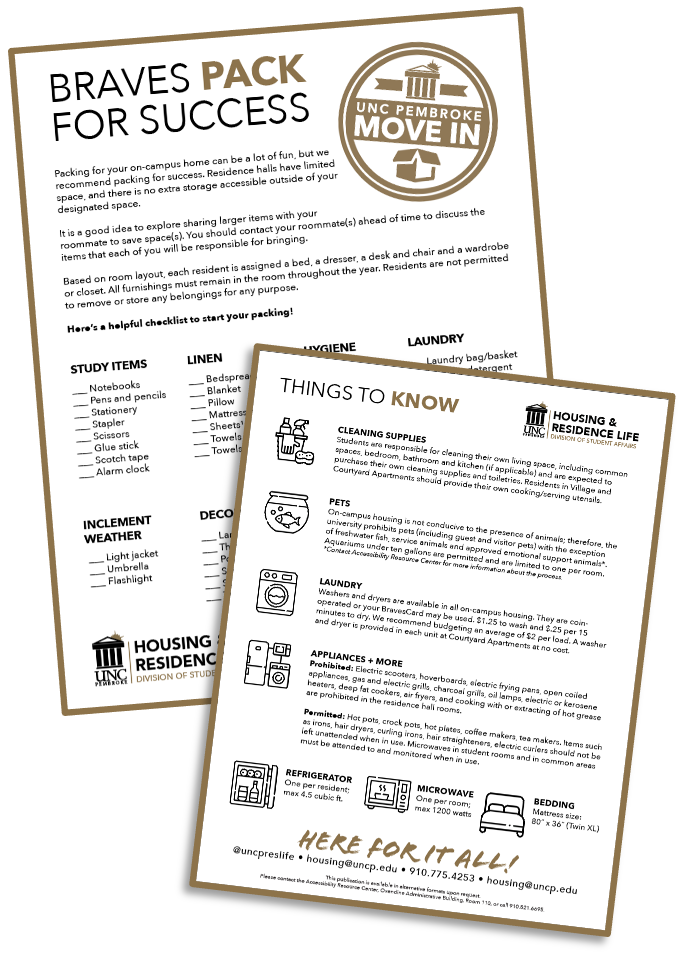 BRAVES PACK FOR SUCCESS
Packing for your on-campus home can be a lot of fun, but we recommend packing for success.
Check out our Braves Pack for Success Guide for a suggested packing list, tips on how to reduce your belongings, and other essential "things to know" such as allowed appliances, bedding size, and more.