IT'S MOVE-IN TIME!
New Students: August 11
Returning Students: August 12
We are excited to welcome you to/back to BraveNation! Our goal is to simplify the move-in process so you can focus on this fun and exciting time in your life.
For your convenience, each community has been assigned a color. All of your move-in materials, including your parking pass and campus signage on move-in day, will match your assigned color.
Residential Community's Color Assignments:
Courtyard Apartments: Purple
Cypress Hall: Yellow
North Hall: Teal
Oak Hall: Red
Pine Hall: Blue
Have questions? We are happy to help! Call Housing & Residence Life at 910.775.4253 or email us at housing@uncp.edu.
---
SCHEDULE YOUR MOVE-IN TIME!
Click the residential community that you are assigned to below to access your scheduling link and downloadable parking pass and campus map.
Housing assignment emails have been sent out multiple times over the course of the summer. If you are unsure of your housing assignment, please check your email or call us at 910.775.4253. 
---

Before you Arrive

Register for a move-in time. Check your BraveMail email address closer to your move-in date for an email with the sign-up link.
Pack for success.

Check out our Braves Pack for Success guide for helpful tips and important things to know.
Box and label ALL belongings with student name, cell phone number, residence hall and room number. (ex. Tommy Hawk, 910.521.4253, Oak Hall 223A)
Don't forget your Braves Card (student ID that you received at orientation). This ID provides access to your residential community and amenities.

Download your parking pass. You must have a parking pass displayed on your front windshield during move-in. Find your assigned community above to download.
Arrive during your scheduled time. Our move-in volunteers will not be able to accommodate more than the limited number of reservations for each move-in time slot, so please arrive during your scheduled time.

When you Arrive

Please arrive during your assigned time window only.
Enter campus via NC Highway 711 (Third St.) into Pembroke, North Carolina, to your designated entrance on the move-in map for your assigned community.

Recommended routes: Take I-95 to exit 17 and turn onto 711 toward Pembroke or I-74 to exit 200 and turn onto NC Highway 710 West toward Pembroke.

Follow the move-in map and signs – roads used for move-in will be ONE WAY only.
Follow the directions of Campus Police and the move-in team.

 

For new residential students only:

Upon arrival to the drop zone, the student will be directed to the check-in table to get their room key.
While the student is checking in, we ask that friends/family unload the vehicle (limited assistance will be available).
Once the student has checked in and the car is unloaded, one family member should move the vehicle while family members take the student to their room. Move-in volunteers will direct vehicles to the appropriate parking lot.
Are you arriving alone? No worries. The move-in team will watch your items and wait for you to return.

That's It – Welcome HOME, Brave! 

NOTE: Move-in teams will have limited access to hand trucks to help you move larger items. Bringing your own hand truck can be a wise investment for your college career. The University is not responsible for lost or misplaced items.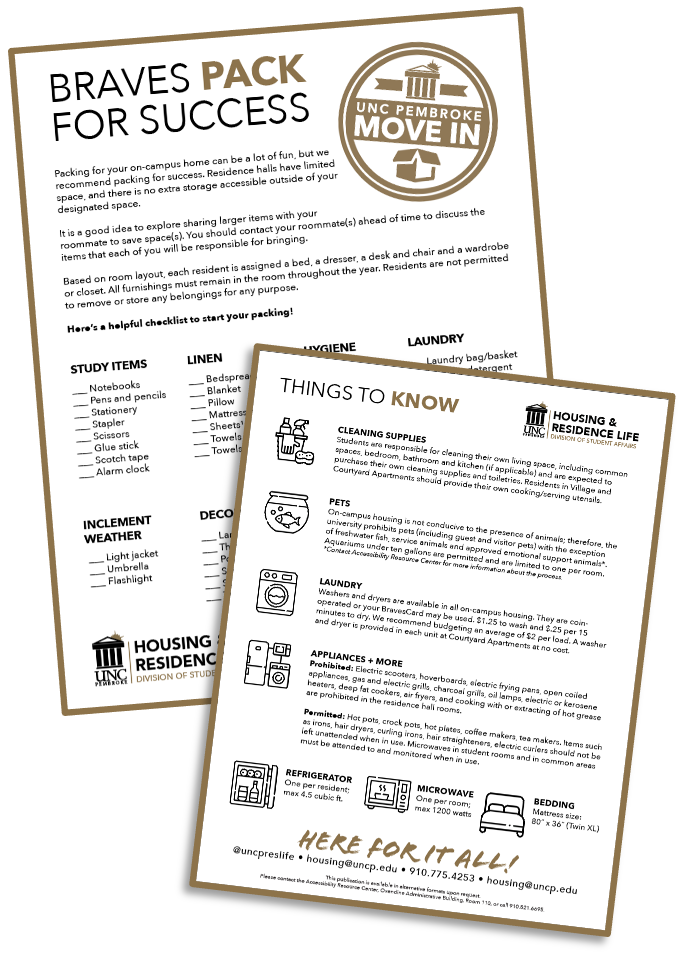 BRAVES PACK FOR SUCCESS
Packing for your on-campus home can be a lot of fun, but we recommend packing for success.
Check out our Braves Pack for Success Guide for a suggested packing list, tips on how to reduce your belongings, and other essential "things to know" such as allowed appliances, bedding size, and more.
---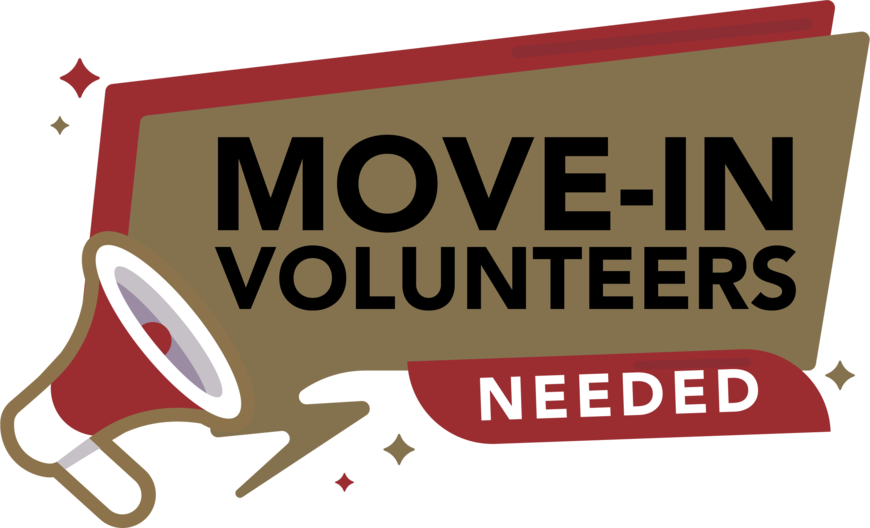 This volunteer opportunity is only for returning students (not incoming first-year students).
The Office of Community & Civic Engagement is working to organize move-in volunteers to welcome our new students on Friday, Aug. 11, and Saturday, Aug. 12, from 9 a.m.-4 p.m. Volunteers who will be living on campus during the fall semester will be able to move in early on Aug. 11.
There are two- and three-hour time slots available. We encourage student leaders to sign up for at least one shift per day, but feel free to sign up for as many shifts as you'd like! Volunteers will attend a training on August 10. 
PERKS OF VOLUNTEERING
opportunity to welcome the new BraveNation class to campus
chance to represent your club/organization
current residents can move in early (Aug. 11)
network with faculty, staff and other volunteers
free volunteer t-shirt
Questions? Contact Luci Hunt at luciana.hunt@uncp.edu.